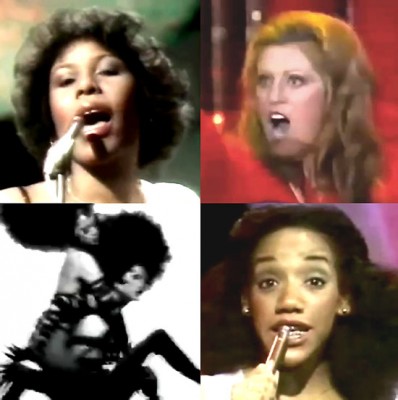 I just posted 4 new, for the first time in full lenght, video clips on CHICtribute.com. Two CHIC clips and 2 CHIC Organization productions.
One is Sheila & B. Devotion's "King Of The World" where they are singing playback, and suddenly the tape stops. The audience starts whistling and booing, and Sheila says something in French… perhaps one of our French friends can translate what she is saying?
Here's a translation by our own Luc. Thank you Luc:
Guy Lux:
"Well… all this is not grave. This will give us the opportunity to
start again, my little Sheila. Having said that, well of course it is
a…" [Sheila seizes the microphone]

Sheila:
"Hello! How are you? Guy will explain you that we are live broadcast,
that these are the hazards of live broadcasting. We will do as if we
haven't seen us before and start again from the beginning!"

G.L.:
"Beforehand we should maybe know if the technique is ready? Yes! I take
the opportunity anyway because, of course, you can think… Ah! bah!" [Music starts]
[At the end of the performance]

G.L.: "Thank you. I am going to nevertheless add a small word [repeated twice].
It is true – you noticed it – that this song was presented on tape. It
is also true that it happens… – moreover she hadn't any microphone,
Sheila – it is true that it happens in certain songs that, when there
is an enormous movement – this is the case of this song – well the tape
is required. The tape broke, anyway that proves that it is absolute
live broadcasting. Because otherwise, if it would be recorded, you
wouldn't have seen this incident! Thank you Sheila, see you soon."
Sister Sledge' "I Got To Love Somebody" performed, with just three of the sisters present, on BBC's "Top Of The Pops" in 1980.
CHIC's "I Want Your Love" is of course an outstanding classic, with great lead vocals by Alfa Anderson. It's performed on BBC's "Top Of The Pops" in early 1979. I just love the performance. The movement of the Ladies, Luci and Alfa, perfectly compliments the song and maintains in every way CHIC's iconic image. It's pure class.
CHIC's "Your Love" is the promo from 1992. This track is imho much better than the lead single off the CHIC-ism album "CHIC Mystique", even though, according to Richard Hilton, they're both based on the same rhythm track. The video is very stylish, despite some girls with guns??? (very non-CHIC!), and giant trannies who, however unlikely, adds to the stylishness. I like the color scheme of course (red, white & black).

The string action starting at 03:50 is my favorite part of the track.
BTW: I just added some google ads to the site. If you appreciate chictribute.com please click on an ad. Doing that will help with the cost of maintaining this site.
Feel free to disagree with me. Please comment!