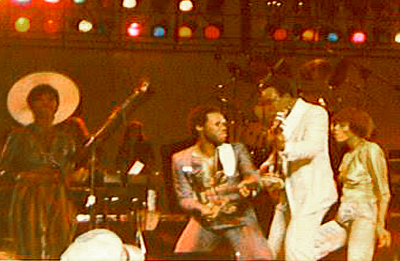 In an interview, published today, with Las Vegas Weekly, Nile says he has recently heard a recording of a live show CHIC did playing the Tropicana in Las Vegas back in the 70s, and he says it is really good quality!
"Have you had any memorable experiences or shows in Las Vegas? Absolutely! Oh, my God! The first time we played in Las Vegas, we were playing for the Warner Bros. convention, a party for all of the Warner labels. We played, I believe, the Tropicana, and it was the first time I had met a person named Nile other than my father and myself—and the spelling is like the river, N-i-l-e, as opposed to the English or Irish version of Nile, N-i-a-double-l. And I couldn't believe it! I was going, "Wow, your name is Nile?" He said, "Yeah." And he was white, and he worked for Don King, the boxing promoter. It was amazing.
Somebody recently played a recording of that show for me—I don't know where it came from, because this was years ago, it was back in the '70s. And I couldn't believe how flawless the show sounded. I was just blown away."
All we here at chictribute can say is that we want to hear that recording, that we want all CHIC fans to hear that recording!! Ideally it should be released commercially, and we hope it will, but as we all know, there are a lot of CHIC stuff that should be released but never seems to get released. So whoever you are, who played that for Nile, please contact us at pocat@chictribute.com or post the recording publicly somewhere.
Thanks to Dario Salvi for posting the above Image of CHIC live at Illinois State Fair back in the 70s.
LINKS:
Read the full interview at Las Vegas Weekly GO!
TAGS: #chiclive #tropicana #lasvegas #nilerodgers #liverecording #bootleg