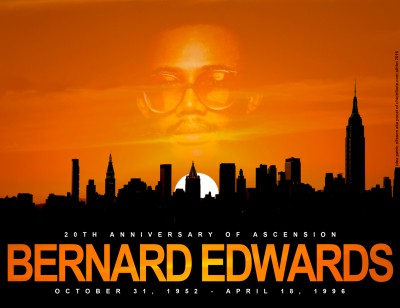 This week, on April 18th, is the 20th anniversary of the day Bernard Edwards was lost to us all, his fans, his friends and most of all, his family. CHICtribute.com is a tribute to his body of work which we all have had ever present in our lives, throughout our lives. It is the soundtrack to the lives of most of us.
I asked some of the CHIC members and some of the people Bernard Edwards collaborated with, what they would think about on the 20th anniversary of his death, if I said his name. So far 9 friends have shared their thoughts, I hope to add more… Here is a taste:
Andy Schwartz a.k.a. Andrew Barrett, former member of CHIC. He played piano on most CHIC albums and was part of CHIC's touring band. He is working as a composer, arranger and orchestrator and programmer:
"…While I think of Nile as the brains behind CHIC, I think of Nard as its soul. One of my best memories was when we played at the San Remo Music Festival. After getting some logistical complications and frayed nerves sorted out, Nard and Nile rounded everyone up, brought us to a fantastic seafood restaurant and proceeded to instruct the proprietor to keep the food and drink coming. It was a night to remember and it really brought the band together…."
For more use the article link in the LINKS.
I have recently come across some rare video of CHIC doing the Miss America pageant broadcast in 1980. Not only are they performing songs, one could almost not imagine CHIC doing, but they are also doing the CHIC written, produced and played on Diana Ross hit "Upside Down". I thought I'd post these clips as a celebration of Bernard Edwards life.
https://youtube.com/watch?v=33JoiqiIbFc%3Frel%3D0https://youtube.com/watch?v=9-Z447hfL9A%3Frel%3D0
For the full CHIC performances on the Miss America pageant, check out the video clip on the article link (at the bottom of the linked page).
LINKS:
Check out the memorial article and the full CHIC performance at Miss America 1980 GO!