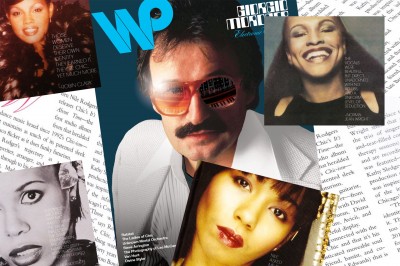 Wax Poetics have in their latest issue published an interview with many of the Ladies singing on CHIC's albums, former and future. Norma Jean Wright, Robin Clark, Alfa Anderson, Luci Martin, Folami Thompson and Kimberly Davis.
"Unison singing, the likes of which the first incarnation of CHIC (with Vandross aiding the arrangements) practically invented, is a matter of precision and perfection."
This interview includes many priceless quotes, and information that is new.
""Huh?" laughs Martin, who at the time didn't get to know Anderson as a backup vocalist or as CHIC's co-lead. "She seemed nice, but all I gathered was that my best friend was ousted,…"
""With the women in CHIC, there was always dignity without drama, and we're following suit," says Davis."
The interview is available in the latest number (no. 62) of Wax Poetics out now!
However Next Step's (Alfa Luci & Norma Jean) label, pacific electronic music (PEM), have uploaded a PDF file of the interview.
LINKS:
Read and download the interview at PEM GO!
Buy the latest issue of Wax Poetics including the interview with CHIC's Ladies GO!
Norma Jean Wright on Facebook GO!
Alfa Anderson on Facebook GO!
Robin Clark on Facebook GO!
Luci Martin on Facebook GO!
Folami Thompson on Facebook GO!
Kimberly Davis on Facebook GO!