Joni Sledge and Mark Pastoria at Harmonia Park Studios, Detroit, July 2008, working on Joni's fisrt solo album.
The "other" great voice of Sister Sledge seems to be back soon

Mark Pastoria is a 2-time Grammy award winner and President of Harmonie Network
who has worked with Aretha Franklin. He won a Grammy for his work on Ms. Franklin's award winning
track "A House is Not a Home" from the Luther Vandross tribute album.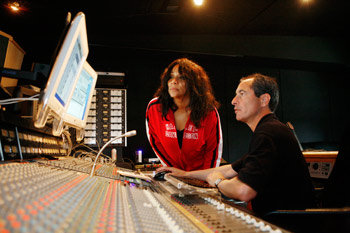 The album is available to buy from Joni's site GO!