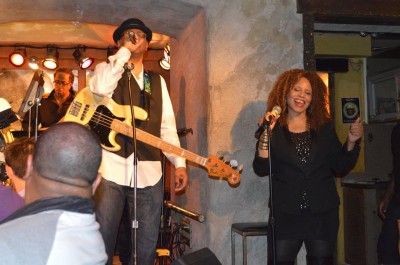 Alfa Anderson's husband Tinker Barfield and his band were performing at Valerie Simpson's Sugar Bar in New York City this week, with Alfa on vocals. In attendence were Alfa's sister in CHIC Norma Jean Wright among many other notables.
Below are two clips (pure gold) by Tony Joga, thanks for capturing this event, and for the top photo.
//www.youtube.com/embed/O16xhnTGo-4?rel=0//www.youtube.com/embed/hBQKsQIVDd8?rel=0
LINKS:
Watch clip one on Youtube GO!
Watch clip two on Youtube GO!
Sugar Bar site GO!