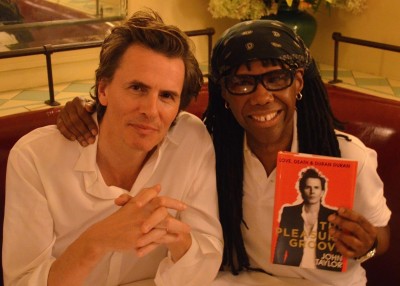 Tomorrow , Friday March 29th, BBC4 will broadcast a documentary on Nile Rodgers "The Hitmaker" at GMT 21:00 (9pm).
"Nile Rodgers: The Hitmaker recounts a captivating and moving story of a man who has created some of the most sparkling and ebullient pop music ever recorded.
Contributors include: Nile Rodgers' fellow Chic members, singers Norma Jean, Alfa Anderson and Fonzi Thornton and keyboard player Rob Sabino, as well as recording engineers Bob Clearmountain and Robert Drake.
Other artists Nile has worked with talk passionately about his talents, including Sister Sledge's Kathy Sledge; Bryan Ferry; Steve Winwood; Johnny Marr; La Roux's Elly Jackson; Valerie Simpson; Debbie Harry and Chris Stein from Blondie and Duran Duran's John Taylor."
Very interesting imo, and long overdue as well as well deserved. If I manage to get hold of a Youtube link or other video link that's watchable for non-UK citizens I will post it in this news item post asap.
Thanks to Graham Lewis for this info.

UPDATED March 29th 2013: If you are not in the UK, you should be able to see Nile Rodgers – The Hitmaker tonight on this page GO!
If that page does not work for you try this one GO!
https://youtube.com/watch?v=VVmAXWZu_PQ%3Frel%3D0
LINKS:
Watch Nile Rodgers – The Hit Maker on Youtube GO!
Read a review of yesterday's Nile Rodgers documentary GO!