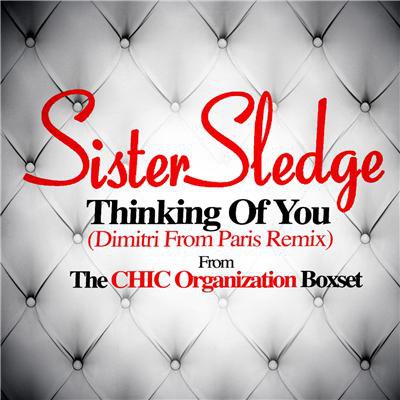 During the last few weeks Dimitri from Paris has given us exquisite little morsels, or amuse bouche', of music, to wet our appetite for the coming release of the CHIC Organization box on October 18th 2010. Now Warner/Rhino (France) has upped the game and are providing us fans with one of the CHIC/Dimitri gems in its entirety as a free download. The only thing you have to agree to is a tweet on you twitter account or a post on your facebook account. Pretty good deal ain't it? The track is Dimitri's remix/edit of the CHIC production of Sister Sledge' "Thinking Of You" from the "We Are Family" album released in 1979. He has done a very good job on this, in full keeping with the CHIC sound and spirit, so scuttle over there and download it, you'll have a very nice day keeping that one on repeat. Thanks to Warner/Rhino (France) for this viral effort who benefits us all.
Download it via Twitter GO!
Download it via Facebook GO!
Dimitri from Paris Snippets
Sheila & B. Devotion – Your Love Is Good, this is my favorite so far, I love the guitar in the beginning and the piano at the end. One wonders though, if Dimitri's had the guide vocal track available to him? If so it would have been nice to have Sheila and Alfa (or Luci) do this as a duet.<!–
WriteFlash(' ');
//–>
Sister Sledge – Thinking Of You, very good, especially the use of Kathy's lead vocal.<!–
WriteFlash(' ');
//–>
Norma Jean Wright – Saturday, great intro….<!–
WriteFlash(' ');
//–>
Nile Rodgers presents The CHIC Organization Boxset Vol. I/Savoir Faire (what else?) can be pre-ordered here:
Amazon France GO!
Fnac France GO!
Amazon US GO!
Amazon UK GO!
Amazon Canada GO!
Amazon Germany GO!
Amazon Japan GO!
HMV Japan GO!
More about the boxset GO!